Karen Gibson, an award-winning choir conductor and workshop leader, is a powerhouse of inspiration and energy. Known for the high quality of her work, Karen's experience is extensive. She has been involved with vocal groups and choirs for over 25 years, conducting gospel workshops across the UK and Europe as well as Nigeria, Japan, Zimbabwe, Rwanda and the USA. She has been instrumental in drawing together and conducting some of the most prestigious large-scale choirs for a variety of gospel and community initiatives. Karen has also run workshops for aspiring gospel conductors in the UK, Poland, Norway and Italy.
Karen currently works in schools across London teaching singing and training future leaders. A recent review of her work states: 'Karen Gibson knows how to bring the best out of people, to allow their latent talent to come alive and, most importantly, to create a synergy that ensures the music is tight, strong, and yet also borne on the wings of a poised ensemble'
Karen has recently founded her own community gospel choir, Gospel on The Rise in the heart of Clapham Junction.
Journey of success.... so far
In pursuit of excellence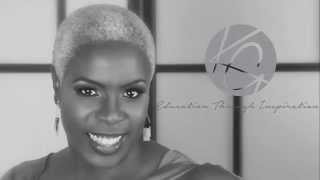 Why is Karen so passionate about what she does?
Journey of success.... so far

There are a number of things that have contributed to Karen finding her own 'voice' on her journey; singing with her first gospel group New Dawn for over 30 years has been invaluable in her musical development and provided her with a constant reference point from which she can teach. Performing for some of the most influential dignitaries in the world has provided Karen with some wonderful highlights in her career. However, Karen feels that she has learned some of her most important lessons from her many young people, as well as from those in the various community choirs from whom she has gleaned poingnant gems. Images from top left to bottom right: Karen's first vocal group, New Dawn, The award-winning Kingdom Choir, Karen with Maria Fidelis at the US Ambassador's Residence, Karen conducting the crowds in the presence of Pope Benedict, Karen rehearses for the Pope's visit with Maria Fidelis Girl's School Gospel Choir, The Kingdom Choir sings for Nelson Mandela alongside Joan Armatrading, Karen leads a workshop at Gospel Rising Choir Festival, Ireland

In pursuit of excellence

Karen loves to see others excel and to be the best that they can individually and collectively. She believes that each one in the choir has something to offer, which impacts what the group can achieve as a whole. Karen is a firm believer in the choir as family – a fun and safe space in which people can connect and dare to try something new.

Why is Karen so passionate about what she does?

Karen's intention is to 'bring out the gold' in all those with whom she comes into contact, and is passionate about encouraging them past what they think they can achieve. With Her mantra being 'you don't have to be perfect, just the best that you can be', she has seen amazing results in all the choirs that she has taught, guiding them to great success, including on national and TV platforms
Highlights
Founder and director of the award-winning Kingdom Choir, who have been one of the most sought after gospel choirs for radio and television work.
Facilitating workshops all over the UK and abroad in countries such as Germany, Denmark, Spain, Italy, Sweden, Norway, France, Latvia, the Czech Republic, Slovakia, Switzerland, Tenerife, Poland, Japan, Nigeria, Rwanda, Zimbabwe and the USA. Workshop delegates have numbered anywhere between 20 and 1000.
Conductor, mass choir, VE Day Celebrations, Buckingham Palace, 1995
Conducting the Kingdom Choir at Buckingham Palace during the Queen's Jubilee procession, 2002
Conductor, mass choir, Concert for Diana 2007
Performances for dignitaries such as Nelson Mandela, Desmond Tutu, Mr Bill Clinton, the US Ambassador, Prince Phillip and the Queen, Pope Benedict XVI during his visit to England
Performing at Buckingham Palace before Prince Charles 2011 with Maria Fidelis Gospel School Choir
Performing before Martin Luther King's 'I Have a Dream' speech writer, Clarence B. Jones, 2011
Launching the official Olympic Team GB Theme song, Royal Albert Hall, 2012
Gospel specialist on Gareth Malone's The Choir: Sing While You Work 2013
Contributor to a series of episodes for the BBCs Songs of Praise introducing gospel music to the UK, 2015
Panel Juror on Gareth Malone's BBC2 The Naked Choir and The Choir, 2015, 2016
Conductor, Gospel Prom, Royal Albert Hall, 2016
Leading a 'How To' Gospel workshop for 250 educators at the London Music and Drama Education Expo 2017, and opening for the first ever Music and Drama Education Expo in Manchester, 2017
Founder and director of Gospel on The Rise, a community gospel choir in the heart of Battersea, 2017
Songs of Praise Gospel Choir of The Year Judge, 2017
Named as one of the best Gospel Choir conductors in the UK, and listed as one of the 20 most influential Black Christian women in the 100th issue of Keep the Faith Magazine, 2017Awards and Honours
Awards and Honours
Winner, BBC Radio 2 Church Minstrels of the year, Kingdom Choir, 2000
Winner, Gem Awards, Kingdom Choir, best Gospel Choir, best Gospel Album, 2004, 2005 respectively
Winner, Songs of Praise Senior School Choir of the year, Maria Fidelis School Gospel Choir, 2010
Finalist, BBC Choir of the Year, SINGIT Gospel Choir, 2011
Awarded Jack Petchey medal for outstanding service to young people, 2012
Awarded for outstanding contribution to the Music and Choral Ministry on the occasion of the 60th birthday of the Church of God of Prophecy, one of Britain's largest Black Majority Churches, 2013
Winner, Enfield Mayoral Choral Competition, St Anne's Girl's School Gospel Choir, 2013, 2014
Winner, BBC Songs of Praise Gospel Choir of the Year, Lewes Sings Gospel, 2014
Winner, Wise Women Award, Music Category, 2015
Winner, Enfield Mayoral Choral Competition, St Anne's Girl's School Gospel Choir, 2016
Winner, Enfield Mayoral Choral Competition, Bishop Stopford School Gospel Choir, 2017
Featured in the first ever book written about British Gospel Music. The book, entitled 'British Black Gospel' is written by Steve Alexander Smith and cites Karen as a pioneer of the sound of gospel in this country